Accelerate your career.
Why Leadership Development is critical.
To climb the professional ladder, you need leadership skills to unite your team around common goals and vision. The notion that some are born leaders while others aren't is a myth. Everyone can lead, but it takes the right techniques to do it well. This course provides the tools, frameworks, and methodologies to become an effective leader.
Level Up Faster
Get to the next level in your career faster.
With the guidance of experienced mentors and a cutting-edge curriculum, you'll gain valuable insights and expertise that will help you achieve your career goals more quickly and effectively.
Get Certified
Earn credentials that stand out.
Gain a competitive advantage by demonstrating your expertise and commitment to your profession. With industry-recognized credentials, you will unlock new opportunities for career advancement and higher salaries.
Improve Performance
Build habits that make work better.
Optimize your performance by gaining access to expert mentors that provide direct feedback and support your growth. You will be better equipped to tackle complex challenges, streamline processes, and drive innovation.
Our Graduates Have Been Hired By


What you will learn.
Designed for professionals at any level, this course offers practical techniques and strategies to enhance your leadership skills and empower your team to achieve shared goals. You'll learn how to communicate with impact, navigate challenging situations, and build a high-performance team culture. Our experienced mentors provide personalized feedback and support throughout the course, ensuring that you leave with the confidence and tools to succeed as a leader.
Download the Syllabus
Get in-depth information about course content.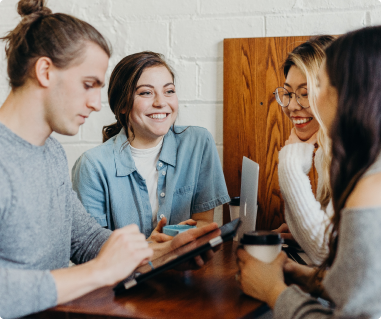 How you will learn.
100% Online. Non-Credit Program.
Meet your new cohort and pro mentor.
Set up a weekly 1:1 meeting with your mentor.
Immerse yourself in our hands-on curriculum.
Dedicate roughly 10 hours per week.
Complete coursework and earn your certification.
Tuition & Financing Options
We don't want financing to get in the way of your new career. Let us know if you need tuition assistance and we will find a solution that works for you!
$60 / mo
Installment Plan
Available for qualifying participants. You can apply for a loan through our partner, Ascent. Use the Budgeting Calculator to design a plan that works best for you.
4-Week, Part-Time
Flexible Online
Application Deadline
May 19, 2023
4-Week, Part-Time
Flexible Online
Application Deadline
June 16, 2023
4-Week, Part-Time
Flexible Online
Application Deadline
July 14, 2023
Apply for the Course
Interested in enrolling? Please fill out the form below.